Bolt-On Thermal Protection System
LOAD CARRYING STRUCTUAL PANELS WITH PREAPPLIED TPS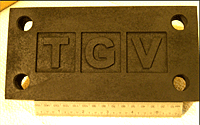 Pre-bonded with TUFI Coated AETB
Wide density range available (AETB-8 to AETB-16)
Large panel sizes with a variety of substrate options
Precision machined to suite vehicle applications
TGV Inc. has developed a lightweight thermal protection system that is highly robust, lightweight, and provides for very low maintenance.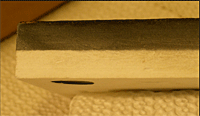 Precision machined AETB tile with a pre-applied TUFI coating is bonded to composite load carrying panels under controlled factory conditions. This provides a high degree of quality control and a guarantee of bond-line integrity and strength.
Threaded ceramic plugs close out fastener holes and allow direct attachment of underlying panel to vehicle airframes and rapid field replacement.
TGV Inc. has done extensive research in the bonding of AETB to metal and composite substrates. In conjunction with NASA's Ames Research Center, TGV has developed analytic models relating bond-line strength and integrity to panel flexure and bond line strain. These models have been verified through a comprehensive series of tests to ensure bond line integrity under loading. With a thorough understanding of these relationships, tile sizes as large as 12" have been sucessfully assembled and tested, and even larger panels are being developed.
TGV Inc. can provide the design, analysis and manufacture of custom-tailored state-of-the-art thermal protection systems to fit a variety of flight vehicle needs.